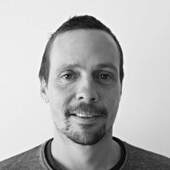 Staffan Ehrlin
Head of People & Organization
Staffan would like to see himself as the "Trent Reznor" (Nine Inch Nails) of the Skymill band, always trying to find new areas to explore, never following the given instructions and focusing on the team members and the wellbeing of the band primarily. Staffans responsibility at Symill is everything that is related to the internal structures of the organization and  its people

His nerd factor is definitely Marvel superheroes (& villains for that matter) and he has a clear answer to the age old question "Who would win in a fight between Superman and the Hulk?". Ask and he will tell.
Why do you work at Skymill, Staffan?
At Skymill you really get to explore your own ideas of how you want the company to work in different fields. The slogan "Orchestrating your ideas" applies both to our clients and to our team members. It is a unique place to work in the sense that we really put time and effort in to creating knowledge clusters instead of just having expertise connected to one single person. When clients involve one of us in their projects, they really get the full competence of the company since we work so close together and have that knowledge transfer mindset in anything that we do.
For candidates that want to widen their competence, explore new areas of business and have the freedom and flexibility that often is connected to being a contractor, Skymill would be the perfect fit.